"Stinger" makes it's debut!
Well, this guy is amazing, don't you agree? He's huge, first of all, at almost 6 feet tall, and his coloring is vibrant. I had his "wings" for several years, left over from a Red Bull display shelf that I picked up as scrap long ago. I always thought they would make awesome wings and finally one day, when I was looking through my metal cache for something else, I spied them and said, aha! today's the day. When I picked out paint I knew I had to go with bright colors. The lime green on the wings is actually engine paint, designed to withstand high temperatures. The other colors took some experimentation to get just right, but I finally settled on the Aubergine body, orange tail, copper eyes and red pincers. It's really awesome in person and will look FANTASTIC hanging on a wall in YOUR home. There will be nothing like it at the neighbors or anywhere else on earth!  He's $450 and available at Noyes Art Gallery in Lincoln, NE, 119 S 9th, 402-475-1061, open Tues-Sat 10-5, first and third Fridays til 8pm.
As always, thanks for looking.
Teri Martens

Athena with Bluebird - $850
Athena is poised, motionless, watching in wonder as the bluebird lands on her finger. 65″ x 21″ x 18″ and she weighs 45lbs.  Athena was created using new, found and thrifted materials. Her base is a 1/4″ steel plate and her dress is a slice of 14 ga. steel. The flowers on her dress are made from 20 gauge steel and painted Silver Lilac. Her torso is a wine rack. Her face is a pipe cutout, her hair a decorative wall piece, painted Metallic Copper. Her halo is the piece that keeps squirrels out of bird feeders so no squirrels will get in her hair!. The bluebird is made from pipe and painted Vintage Teal. She could live inside or out although if outside a sheltered area would be best.  If interested in Athena visit the Noyes Art Gallery, 119 S. 9th, Lincoln, NE 402-475-1061, they are open Tues-Sat 10-5, first and third Fridays 'til 8.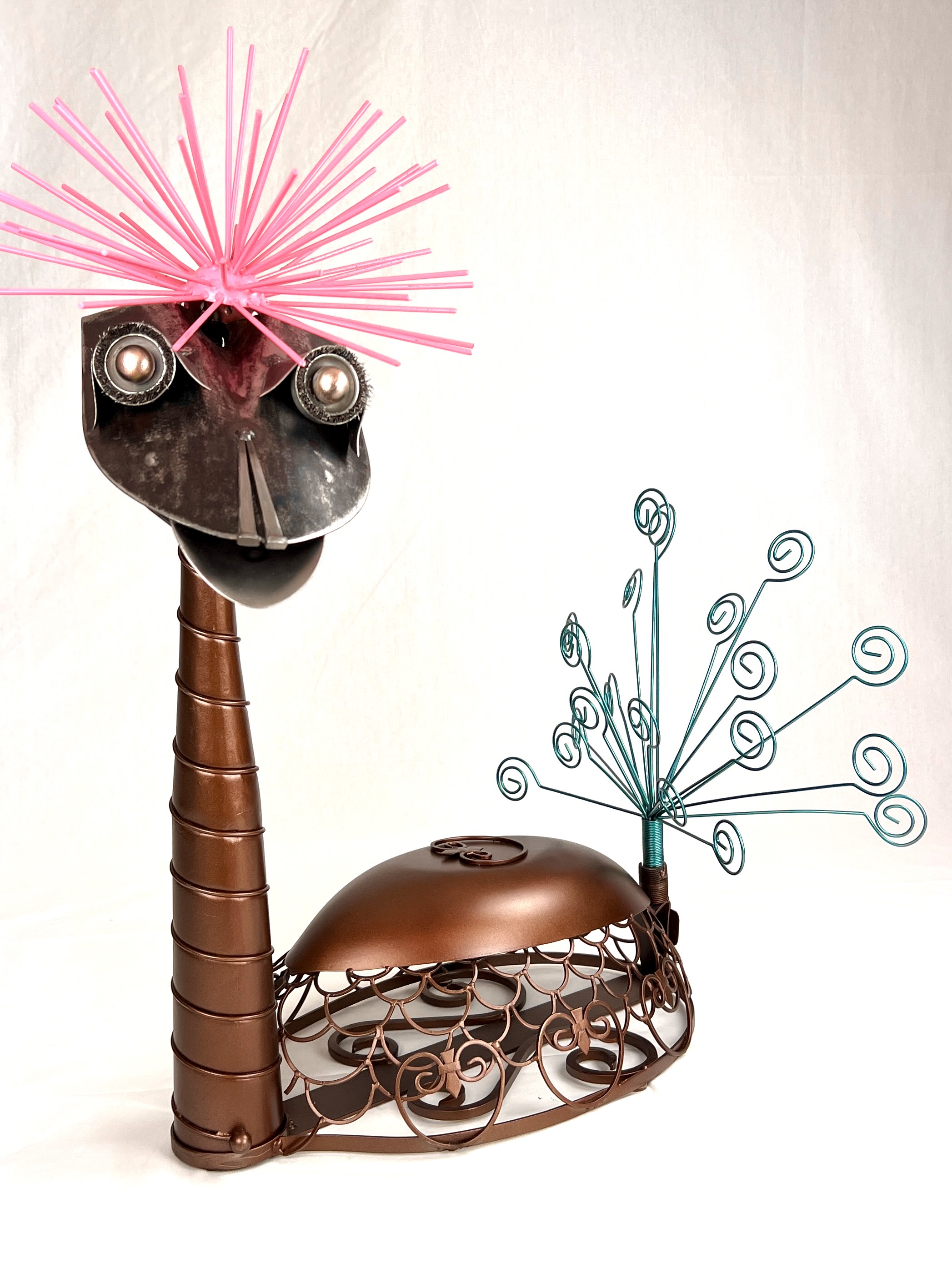 Nessie - $345
Nessis has finally come out of hiding. And how fancy does she look? She's sporting the latest in aquatic headwear, the "fireworks starfish hat" and her tail, it is just so versatile, it can hold those lovely photose of your kids and grandkids down by the Loch, I mean beach! Haha, but really isn't she just divine? Her neck was a flower vase stuff full of dried roses, still pale-pink and slightly sweet smelling. I knew I had to use it to make a creature with a long beautiful neck. And here she is. She is hanging out at Noyes Art Gallery in Lincoln. You can visit her there Tuesday through Saturday, 10 to 5 and first and third Fridays until 8. She'd like to see you. She might like to go home with you. But she's picky, so she won't go home with just anybody. But you can try. Oh, yeah, she is 29 1/2″ tall by 29″ long by 12″ wide and she weighs 15 lbs.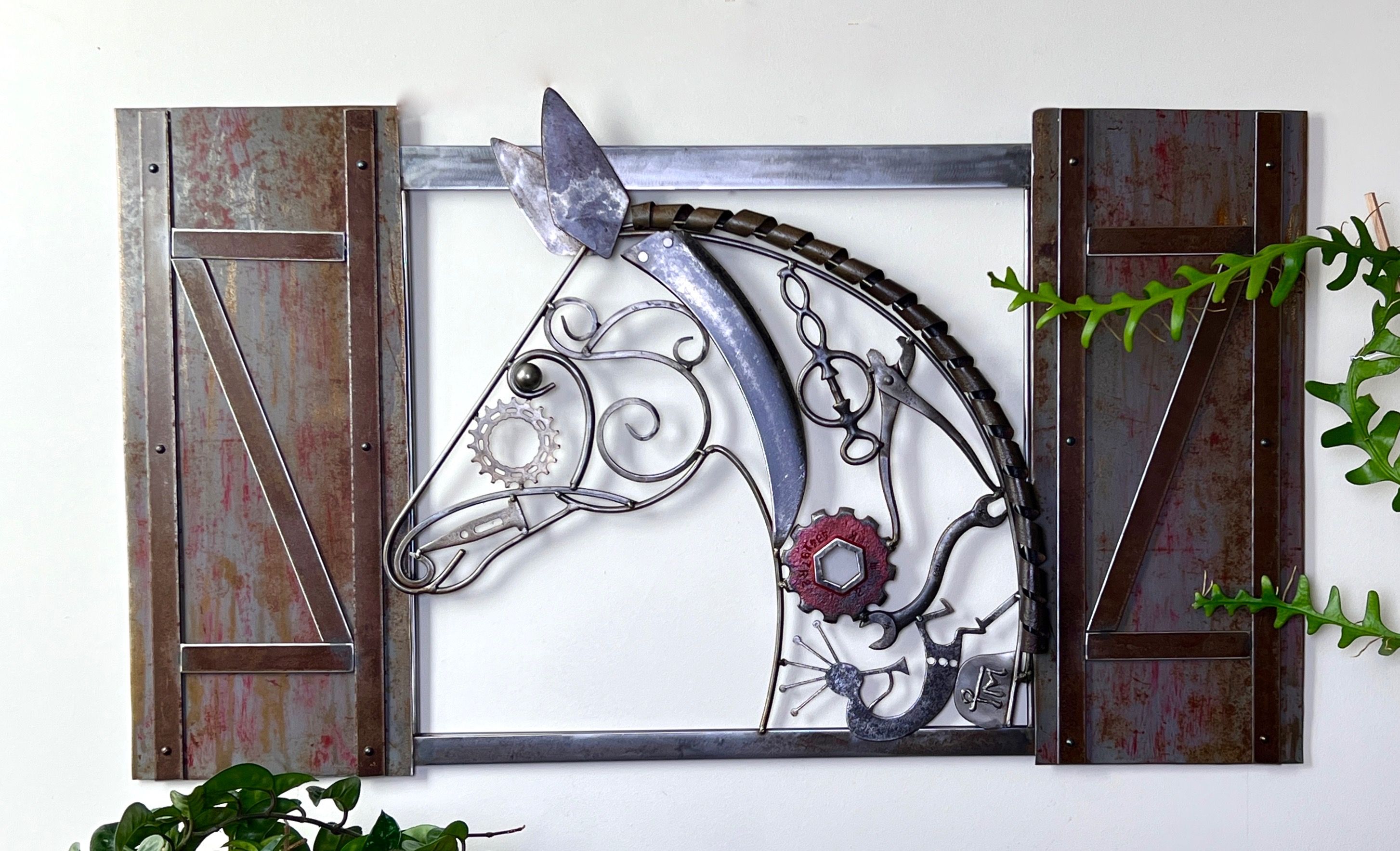 Spirit - $365
Spirit is a lovely Welsh pony, looking wistfully from her stall door, wondering when someone is going to take her for a ride. 44″ x 24″ x 1 1/2″ in size. She weighs 15lbs. The doors are made from two store shelves, that started out gray with some rusty spots, to which I added touches of red with a dry brush and sanded everything till it looked very worn. I used several candle holder parts in her head along with a bicycle freewheel ring, a cement spacer, ball bearing, two trowels for ears and a hand scythe blade. Her neck contains half of a horse bit, a pair of weird pliers, a farm machinery cog and other parts, and "S" wrench and a piece of decorative scrap metal. She is available at Noyes Art Gallery, 119 S. 9th, Lincoln, NE 402-475-1061, they are open Tues-Sat 10-5, first and third Fridays 'til 8. Call them, they are friendly!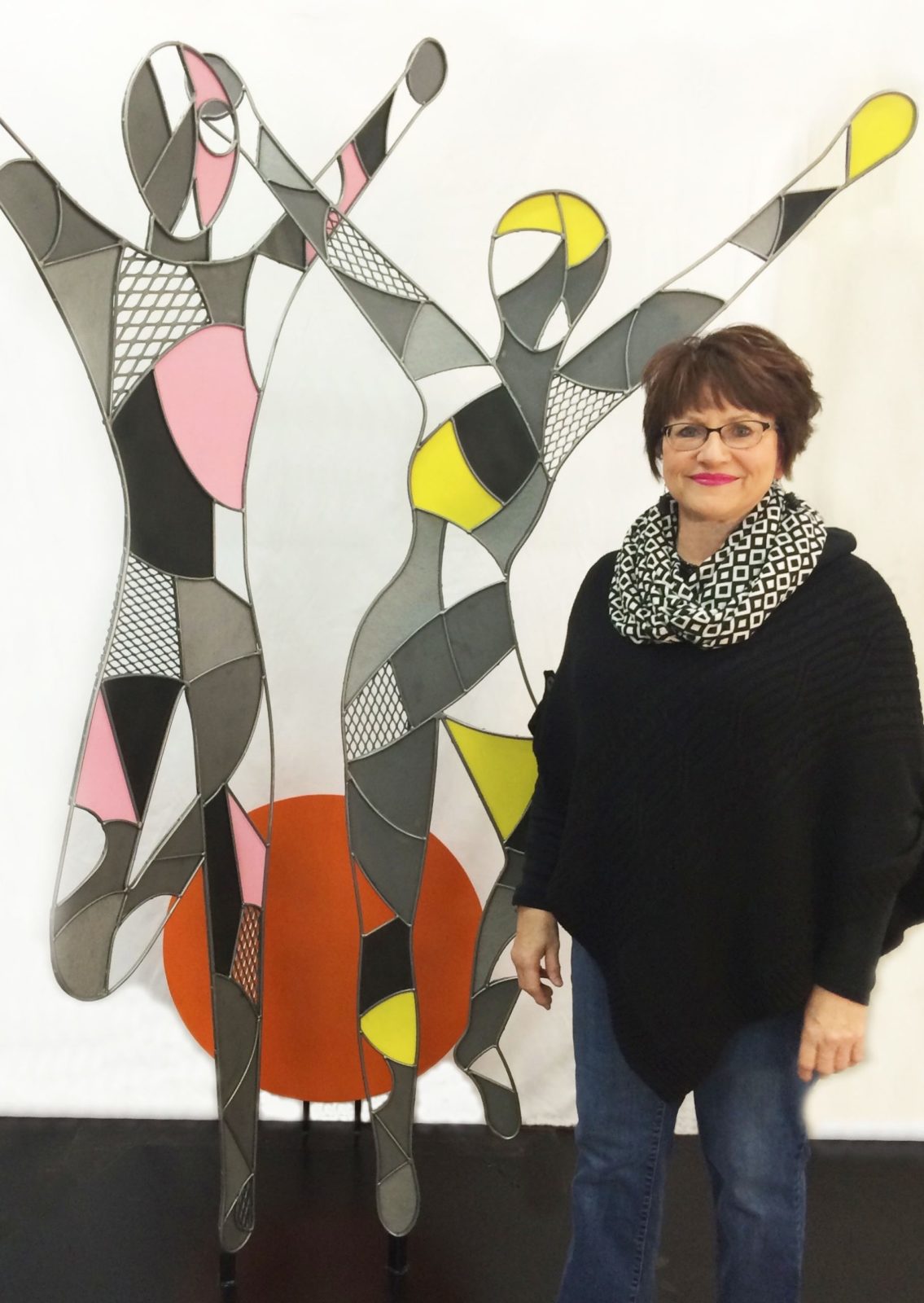 Teri Martens and a commissioned piece, "The Story."
Martens is a Midwesterner gifted with a strong mechanical ability. She was born in the city, but spent lots of time on her grandparents' farm growing up. In her early twenties, Martens was involved in a start up bicycle business, but rather than working in sales or doing the books, she became a mechanic, building racing wheels and repairing bicycles.  Over the years Martens got her bachelor's degree in communication, had a child and worked for a newspaper and for various large corporations in advertising. In 2009 her husband signed her up for a welding class at a local community college.  She excelled in the class and a metal sculptor was born. In 2013 Martens did her first large exhibition, a RAW event which started a series of other shows and exhibits and eventually gallery representation.
Martens works almost exclusively in steel, either new or scrap and many sculptures are a combination of welded and assemblage pieces.  She enjoys animal themes — owls, foxes, birds, fish, horses, and cats but she has also created many outdoor pieces — trellises, birdbaths, arbors and suns. She has refined her methods and processes for the past 10 years moving from two dimensional work into almost exclusively 3D. She describes her work as mostly problem solving.  "I find a piece that I think will work for an owl's wing, for example, but it may need to be heated and bent or drilled and attached with screws."  So there's always a problem she must solve before she can make something work.
Martens' mission in life as well as in her art is simple: Be kind, be useful, be productive.  Every day as she enters her studio she is grateful that she has the opportunity to create art that uplifts, surprises and is loved for the way it makes her collectors feel.
This link is not working right now and I'm not smart enough to figure it out. So please just email me at terijune@yahoo.com or text/call me at 402-881-9714.  Sorry and thanks!