The sculptures from the class I taught in Fremont at the Gallery 92 West are finally done! As always, I thought they turned out well, with lots of creativity on display. There are birds and ladies with crazy hair, leaves, swirlies, one-eyed creatures and I think there's a rake theme going on too! I'd like to thank Anita S. for recommending the class to the Fremont Area Art Association. She took the class at the Noyes Art Gallery and enjoyed and she thought it would be fun to hold for artists and friends in Fremont. I'd also like to thank Katy Jones, Asst. Professor of Art and Design at Midland University for contacting me and making everything happen, including giving me a pre-tour of the teaching space. This will be the last class this year. I need time to replenish my supplies and that takes a lot of garage sales, thrifting and general scrounging in ditches.  Thanks!

Teri Martens

Athena with Bluebird - $750
Athena is poised, motionless, watching in wonder as the bluebird lands on her finger. 65″ x 21″ x 18″ and she weighs 45lbs.  Athena was created using new, found and thrifted materials. Her base is a 1/4″ steel plate and her dress is a slice of 14 ga. steel. The flowers on her dress are made from 20 gauge steel and painted Silver Lilac. Her torso is a wine rack. Her face is a pipe cutout, her hair a decorative wall piece, painted Metallic Copper. Her halo is the piece that keeps squirrels out of bird feeders so no squirrels will get in her hair!. The bluebird is made from pipe and painted Vintage Teal. She could live inside or out although if outside a sheltered area would be best.  If interested in Athena visit The Furniture Girl at 19257 Conifer Lane #1, Council Bluffs, IA 712-256-2057. It's a cool store!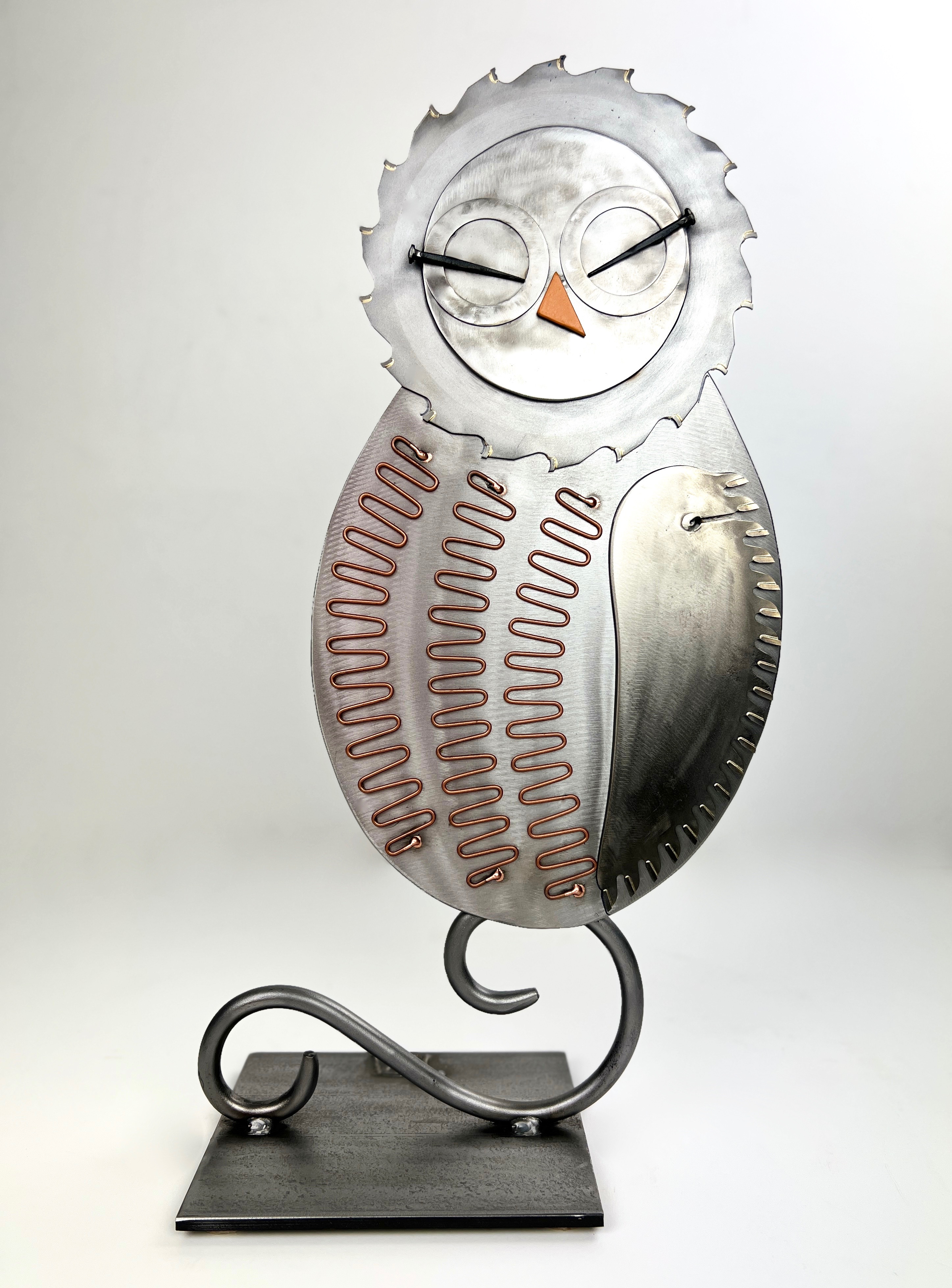 Nora Owl - $145
Nora is rather shy during the day but at night she is a fierce hunter so keep your cats and chihuahuas inside folks! Nora's head and wing are made from circular saw blades. Her face and body are 14 ga. sheet steel and her eye surrounds are giant washers found in a coffee can full of junk. Her eyelids are square nails and her beak is a corner scrap of thick metal. Those zigzag pieces on her front? Those came off a small broiler pan that no one wants after they have to clean it the first time so I see many of them at garage sales! Nora sits on an S from a candleholder mounted on a thick plate that was a factory drop. Her beak is painted Marigold, her eyelids, Canyon Black and she has two coats of satin clear to protect her from rusting. 10 3/4″ x 20″ x 6″ and 5lbs. She is available at The Furniture Girl, 19257 Conifer Lane #1, Council Bluffs, IA 712-256-2057.  Visit them, they're friendly!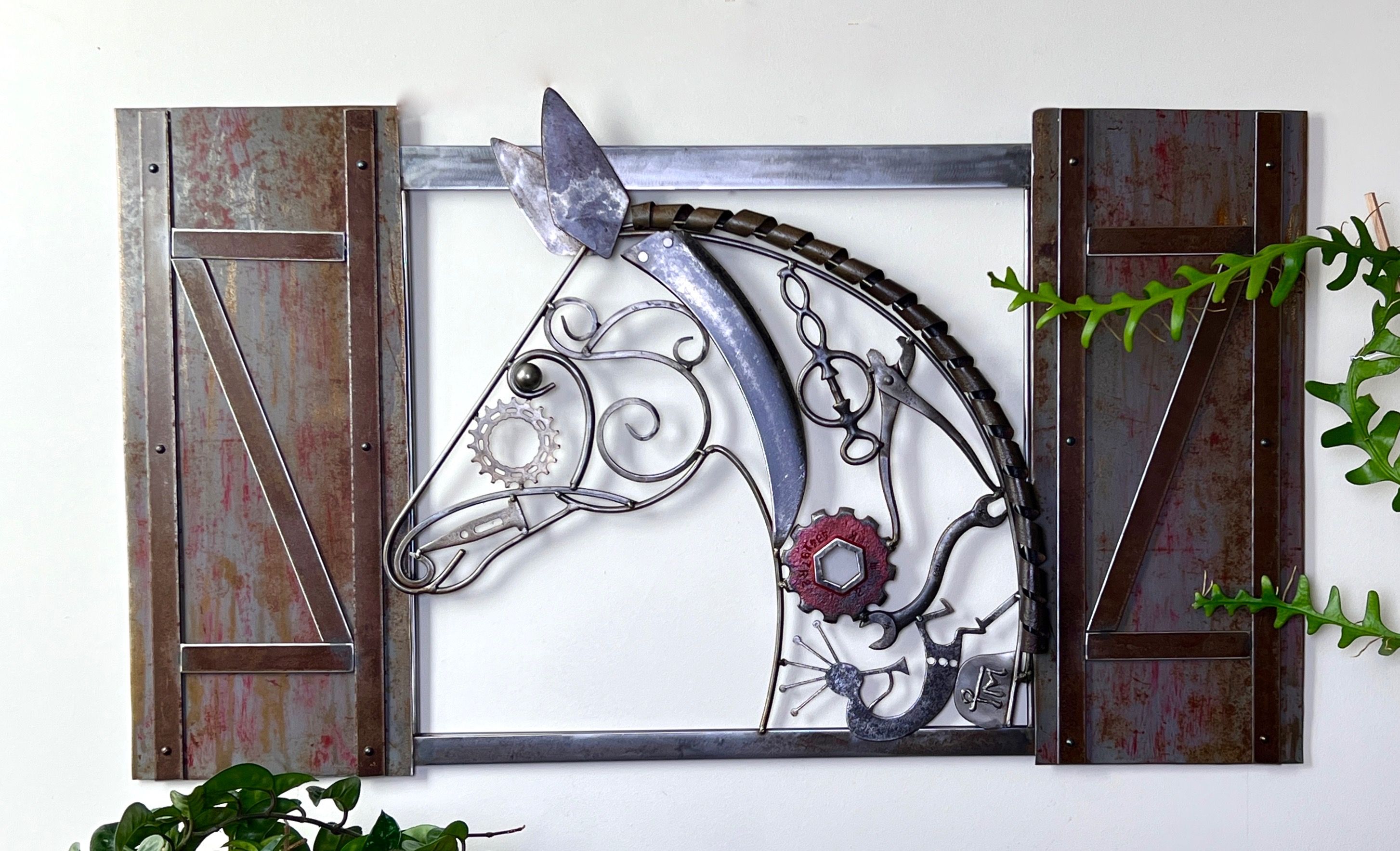 Spirit - $365
Spirit is a lovely Welsh pony, looking wistfully from her stall door, wondering when someone is going to take her for a ride. 44″ x 24″ x 1 1/2″ in size. She weighs 15lbs. The doors are made from two store shelves, that started out gray with some rusty spots, to which I added touches of red with a dry brush and sanded everything till it looked very worn. I used several candle holder parts in her head along with a bicycle freewheel ring, a cement spacer, ball bearing, two trowels for ears and a hand scythe blade. Her neck contains half of a horse bit, a pair of weird pliers, a farm machinery cog and other parts, and "S" wrench and a piece of decorative scrap metal. She is available at Noyes Art Gallery, 119 S. 9th, Lincoln, NE 402-475-1061, they are open M-Sat 10-5, first and third Fridays 'til 8. Call them, they are friendly!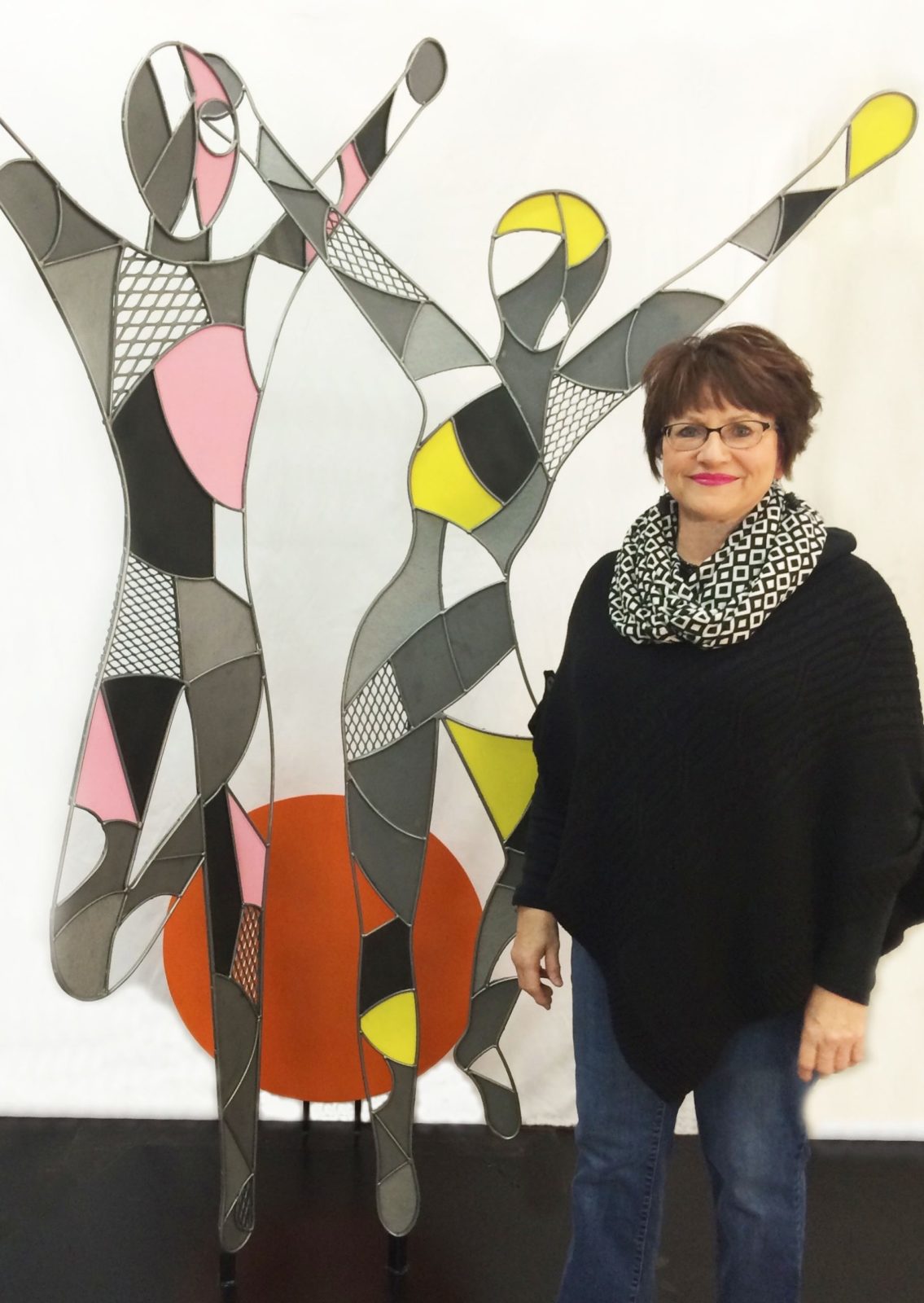 Teri Martens and a commissioned piece, "The Story."
Martens is a Midwesterner gifted with a strong mechanical ability. She was born in the city, but spent lots of time on her grandparents' farm growing up. In her early twenties, Martens was involved in a start up bicycle business, but rather than working in sales or doing the books, she became a mechanic, building racing wheels and repairing bicycles.  Over the years Martens got her bachelor's degree in communication, had a child and worked for a newspaper and for various large corporations in advertising. In 2009 her husband signed her up for a welding class at a local community college.  She excelled in the class and a metal sculptor was born. In 2013 Martens did her first large exhibition, a RAW event which started a series of other shows and exhibits and eventually gallery representation.
Martens works almost exclusively in steel, either new or scrap and many sculptures are a combination of welded and assemblage pieces.  She enjoys animal themes — owls, foxes, birds, fish, horses, and cats but she has also created many outdoor pieces — trellises, birdbaths, arbors and suns. She has refined her methods and processes for the past 10 years moving from two dimensional work into almost exclusively 3D. She describes her work as mostly problem solving.  "I find a piece that I think will work for an owl's wing, for example, but it may need to be heated and bent or drilled and attached with screws."  So there's always a problem she must solve before she can make something work.
Martens' mission in life as well as in her art is simple: Be kind, be useful, be productive.  Every day as she enters her studio she is grateful that she has the opportunity to create art that uplifts, surprises and is loved for the way it makes her collectors feel.
This link is not working right now and I'm not smart enough to figure it out. So please just email me at terijune@yahoo.com or text/call me at 402-881-9714.  Sorry and thanks!