Hello, and welcome to my website.
Thank you for taking the time to visit and view my work.
It's a new year and there's lots of new ideas on the horizon.  I am excited to learn new methods of finishing my sculptures, new materials to use and with wall display space at the Noyes Art Gallery in Lincoln, NE, I have the ability to display an entirely different aspect of my sculpture work.  Here's to a great new year! 
Teri Martens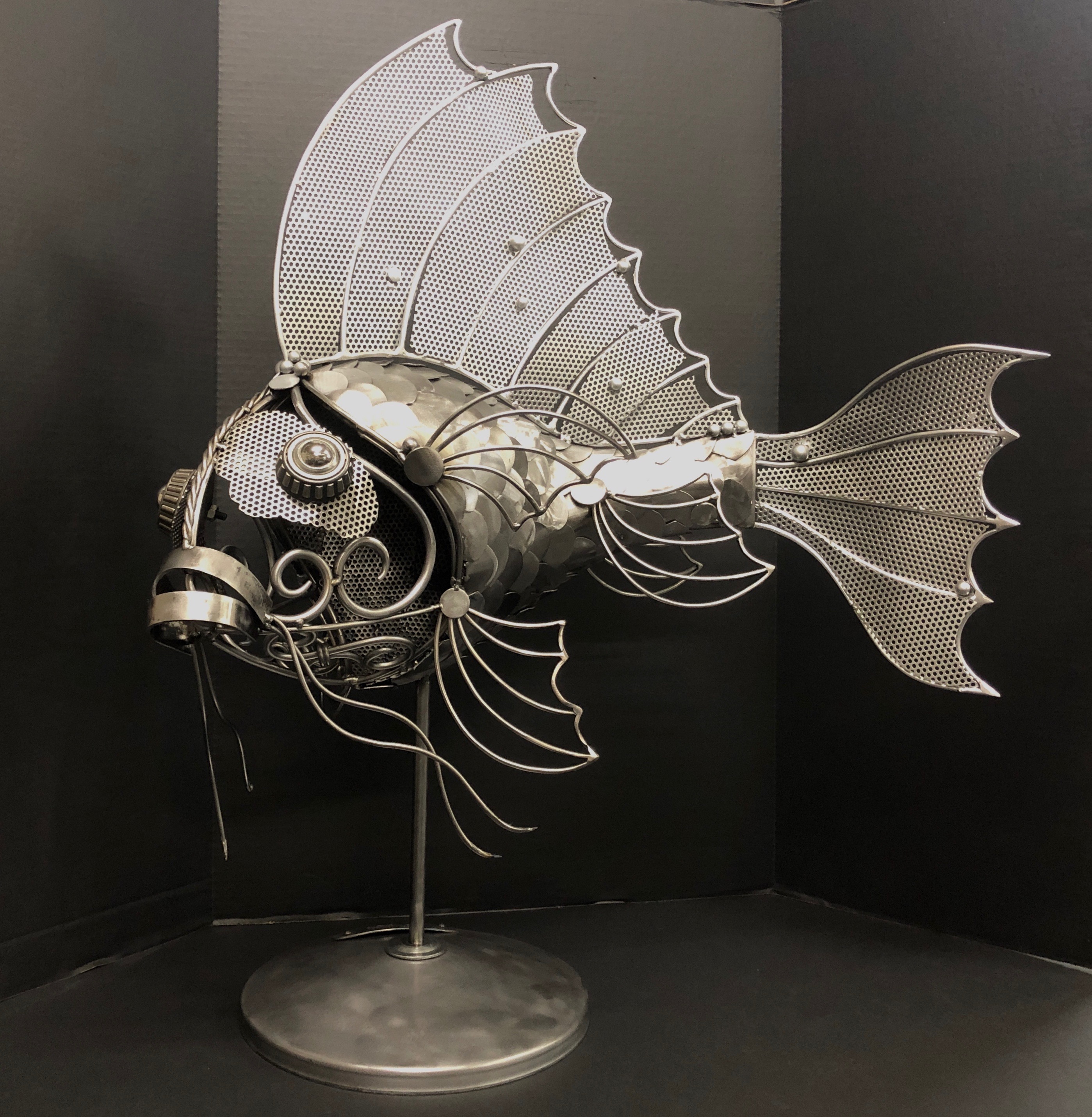 Silver Goldfish - $2450
Silver Goldfish is better than a real goldfish because it never needs to be fed! This sculpture is 31 1/2″ x 26″ x 12 1/2″ and weighs 19 pounds. It was created using 18 gauge cold rolled sheet steel, perforated sheet steel, 3/8″, 5/8″, 1/4″ and 1/2″ steel rod, wheel bearings, castor wheels, candle holders, flat steel bar, ball bearings and scrap metal. The fins have been painted with metallic chrome Rustoleum and the entire sculpture is clear coated.  Silver Goldfish is available at the Noyes Art Gallery, 119 S. 9th St., Lincoln, NE. (402) 475-1061.  They are open Tuesday through Saturday 10 to 5 and the first and third Fridays of each month 'til 9pm.  Stop and see them, they're friendly!
Mohawk, War Horse - SOLD
Mohawk is constructed of 18 gauge sheet steel, ball bearings, steel rod, washers, rivets, thatching rake tines, scrap metal, steel plate and has a gun barrel finish.
I loved the arc-shaped tines on thatching rakes. I had tried to use them in sculptures  but nothing ever worked.  On a whim, I tried them as a mane for this horse and they clicked!  They work perfectly as a sculpted mane and completely changed the horse's demeanor. If you'd like to commission a piece similar to Mohawk just email me at terijune@yahoo.com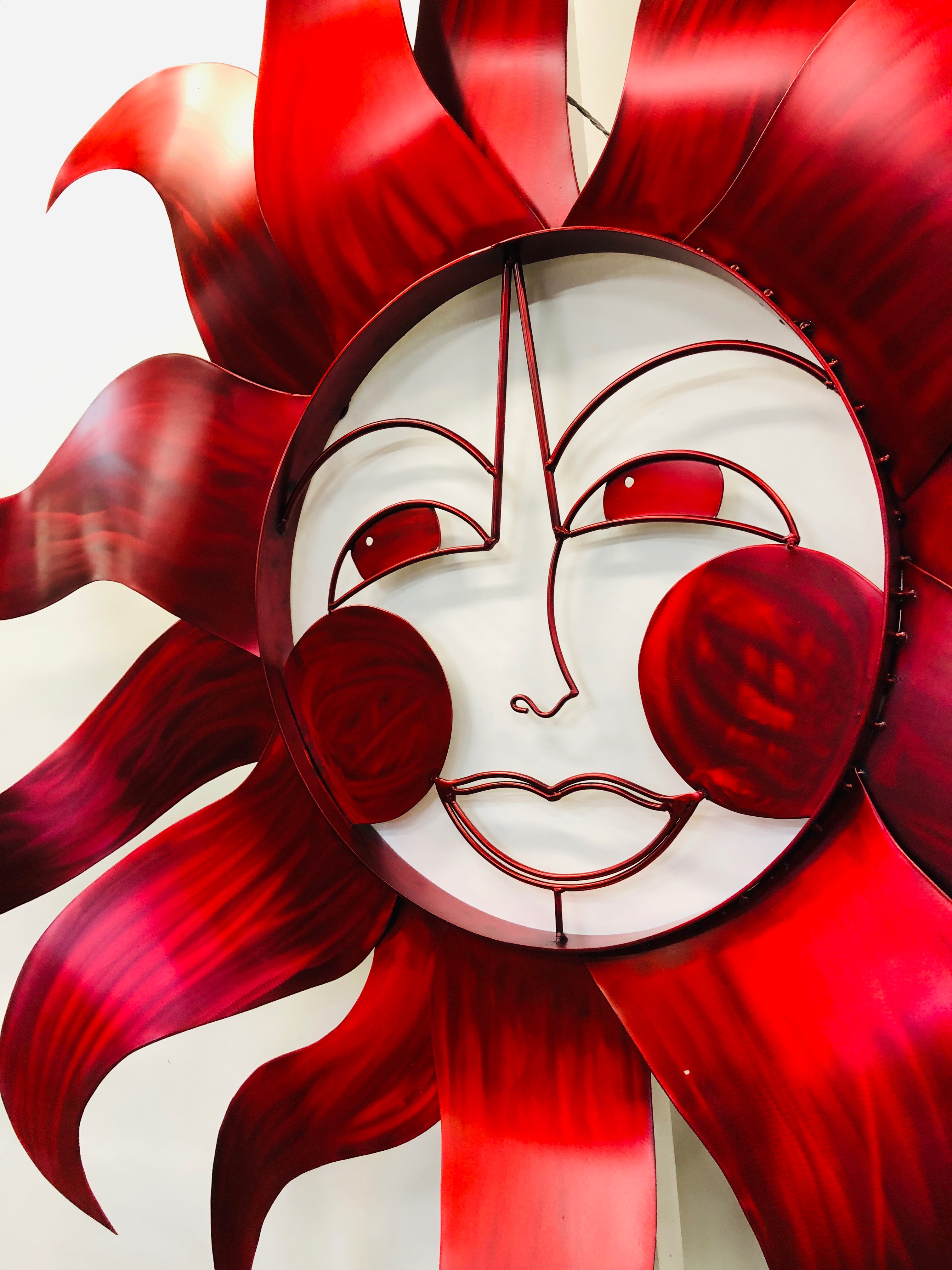 The Sun King - SOLD
The "Sun King" is 52″ x 56″ x 5″ and weighs 21 pounds.  It is constructed from 14 gauge and 18 gauge sheet steel, steel rod and 2″ metal strap.  The finish is a metal stain by Sculpt Noveau and it lets the texture of the metal show through so beautifully and with the addition of a glossy top coat, the depth and color variations create a stunning display of tone and hue as the light catches each separate ray.  It would look perfect over a mantel in a large living room or family room or outside in a sheltered atrium or cabana. This piece is sold but if you'd like to commission a similar piece, email me at terijune@yahoo.com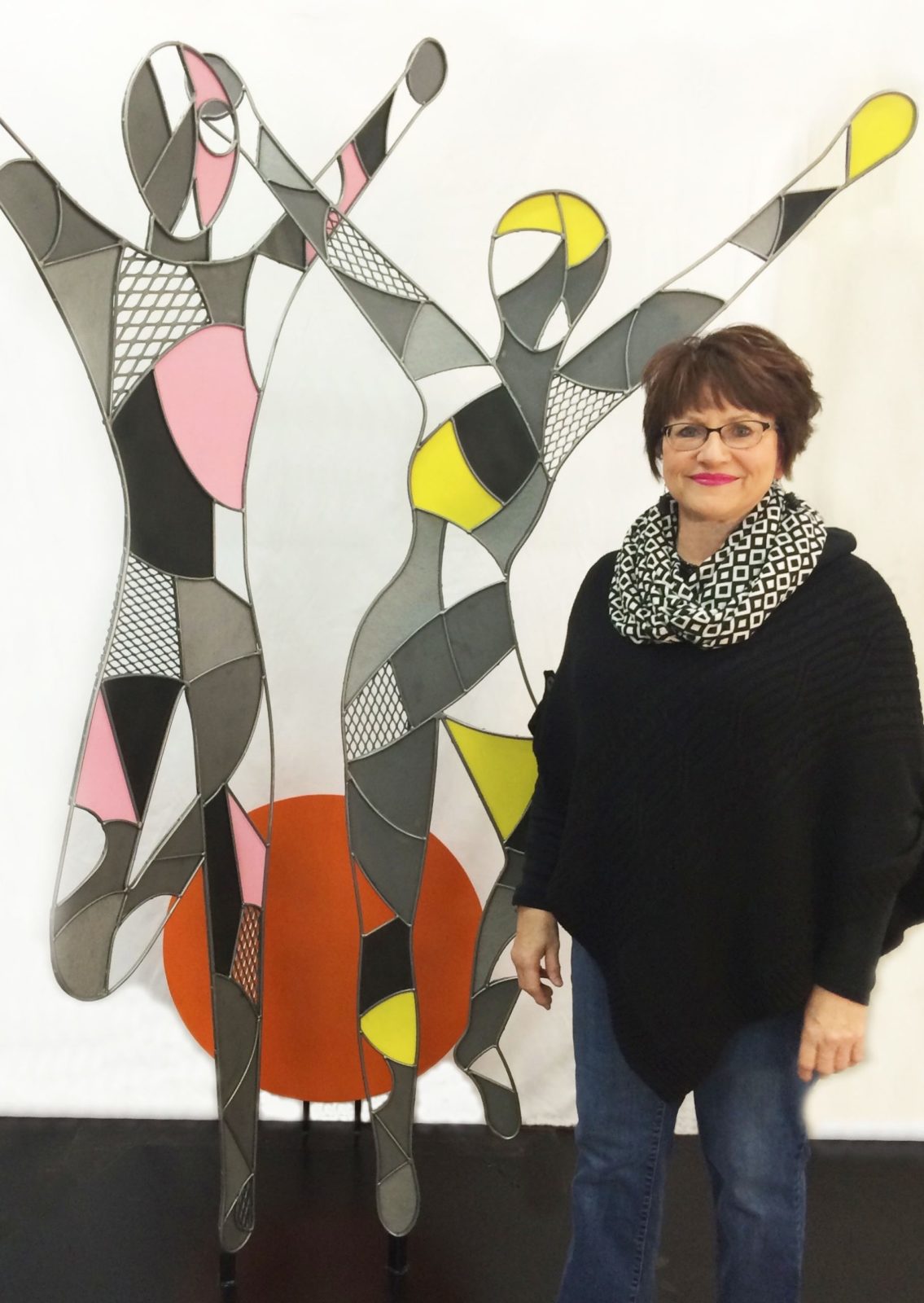 Teri Martens and a commissioned piece, "The Story."
Martens is a Midwesterner gifted with a strong mechanical ability. She was born in the city, but spent lots of time on her grandparents' farm growing up. In her early twenties, Martens was involved in a start up bicycle business, but rather than working in sales or doing the books, she became a mechanic, building racing wheels and repairing bicycles.  Over the years Martens got her bachelor's degree in communication, had a child and worked for a newspaper and for various large corporations in advertising. In 2009 her husband signed her up for a welding class at a local community college.  She excelled in the class and a metal sculptor was born. In 2013 Martens did her first large exhibition, a RAW event which started a series of other shows and exhibits and eventually gallery representation.
Martens works almost exclusively in steel, either new or scrap and many sculptures are a combination of welded and assemblage pieces.  She enjoys animal themes — owls, foxes, birds, fish, horses, and cats but she has also created many outdoor pieces — trellises, birdbaths, arbors and suns. She has refined her methods and processes for the past 10 years moving from two dimensional work into almost exclusively 3D. She describes her work as mostly problem solving.  "I find a piece that I think will work for an owl's wing, for example, but it may need to be heated and bent or drilled and attached with screws."  So there's always a problem she must solve before she can make something work.
Martens' mission in life as well as in her art is simple: Be kind, be useful, be productive.  Every day as she enters her studio she is grateful that she has the opportunity to create art that uplifts, surprises and is loved for the way it makes her collectors feel.
If you have questions send me a quick note and I'll get right back to you. Thank you.