Hello, and welcome to my website.
Thank you for visiting. 
This piece is titled "Silence" and is 13" by 10 1/2" by 25" and weighs 9 lbs. It is made almost entirely from scrap metal, which is pretty rare for my pieces these days. Can you find a bicycle freewheel sprocket? An ice chopper? A long spade? A piece of wire rope? A round cut out of a pipe? A couple of large nail heads? The other things it is comprised of are not things I can identify either such as the piece that attaches the head to the body with the large round opening at the waist. I have no idea what that was. The scroll-ish looking pieces were from a bird garden piece and there were only two of them. I intended them to be hair because that's what they looked like to me, but as soon as I had made the hands (do you see that they are tiny nails?) I suddenly needed some sleeves so that was their purpose all along. Most of my sculptures come together serendipitously like that. 😊
Teri Martens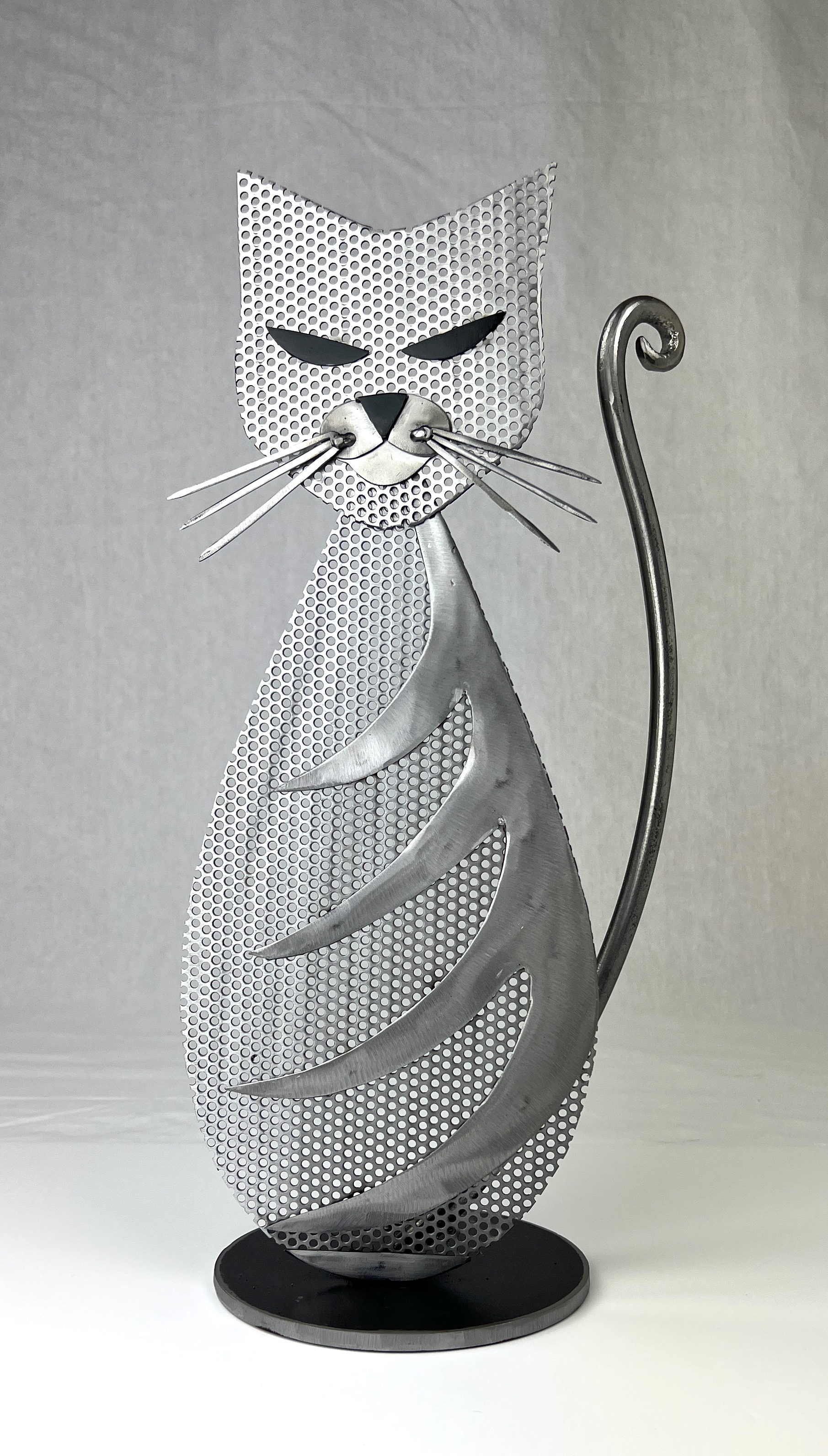 This is "Sly" the Cat - $90
Sly is 16 3/4″ tall and 8″ wide and weighs 2 lbs. He sits on a sturdy 6″ circle cut out of 1/4″ steel plate. His body is cut from 16 gauge perforated metal that was a shelf in a former life and his stripes, eyes, nose, whiskers and mouth are cut from 18 gauge sheet steel. His tail is from a decorative piece I found at a sale. Available at the Noyes Art Gallery, 119 S 9th Lincoln, NE 402-475-1061.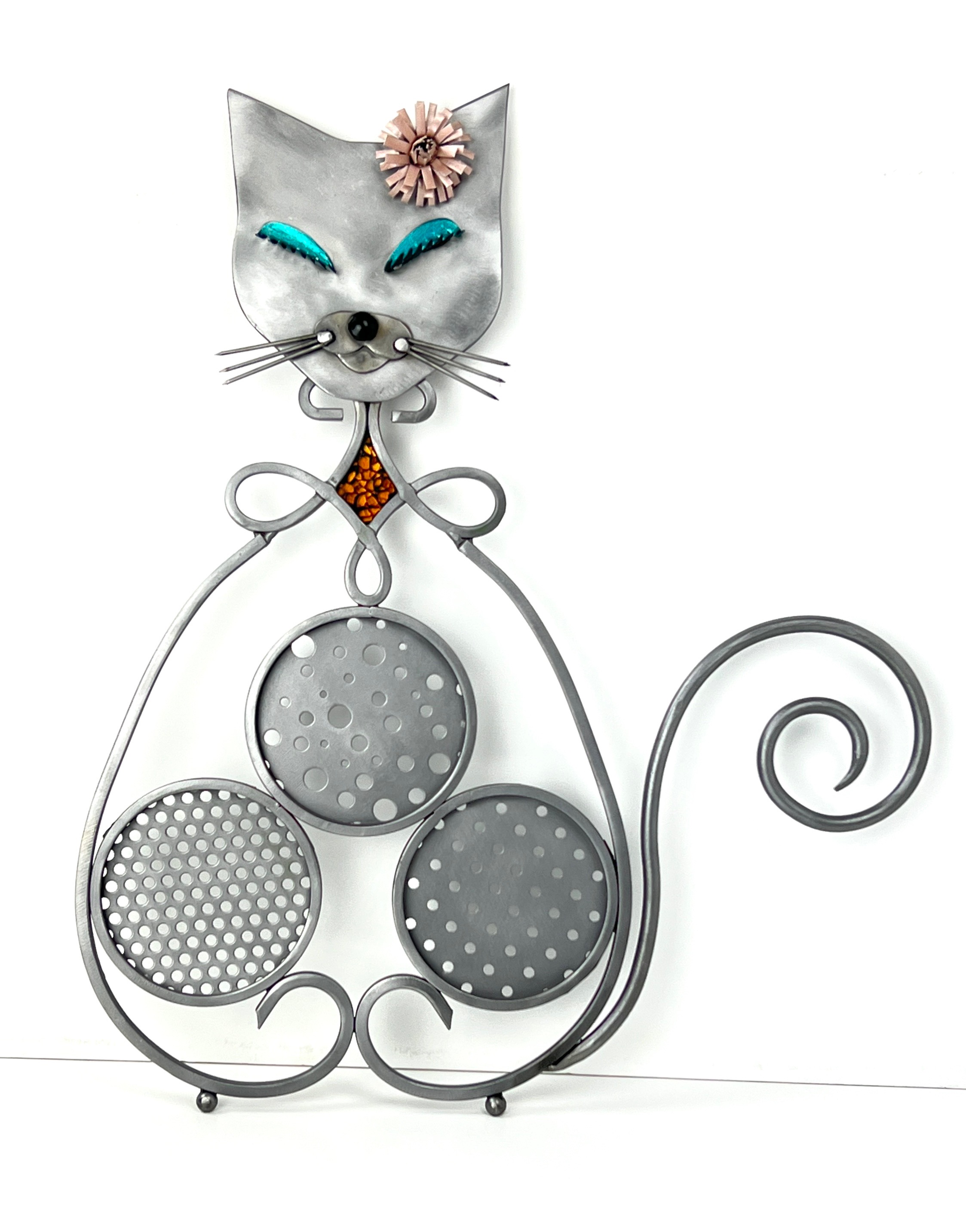 "Collette" the Cat - $125
Say hello to "Collette." She's 17 1/4″ x 15″ x 1/2″ and only weighs 1 pound. Collette's body is made from half of a wine rack with perforated metal added to the circles that used to hold the bottles. Her tail is from a candleholder. Her head, eyes, mouth and flower are cut from 18 gauge sheet steel and her nose is a punch out from 3/8″ metal. Collette has fancy metallic turquoise eyeshadow (paint), a black nose and a metallic pink champagne flower. Available at the Noyes Art Gallery, 119 S 9th Lincoln, NE 402-475-1061.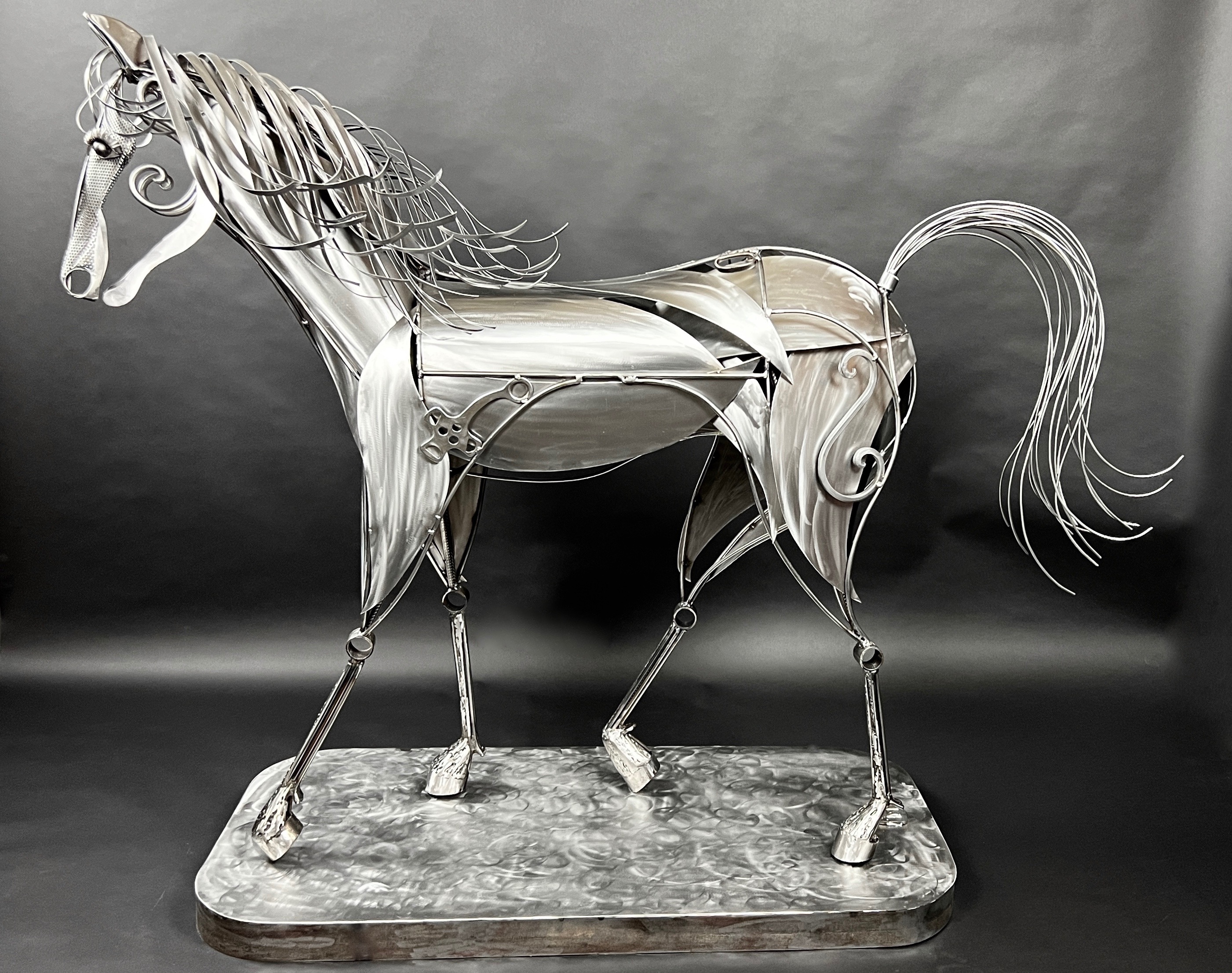 Cinnamon Girl - $9950
"Cinnamon Girl" is an indoor sculpture made of 18 and 20 gauge cold rolled steel, steel rod and scrap metal including horse bits, a horse shoe and pieces from a hames. She is 68″ x 52 3/4″ x 24″ and weights 125 lbs.  She is attached through 1/2″ rods through two hooves to a 14 gauge steel plate reinforced from below, sitting on a 1/8″ strap edge.  It is available just email me at terijune@yahoo.com and I'll get right back to you.  Thanks.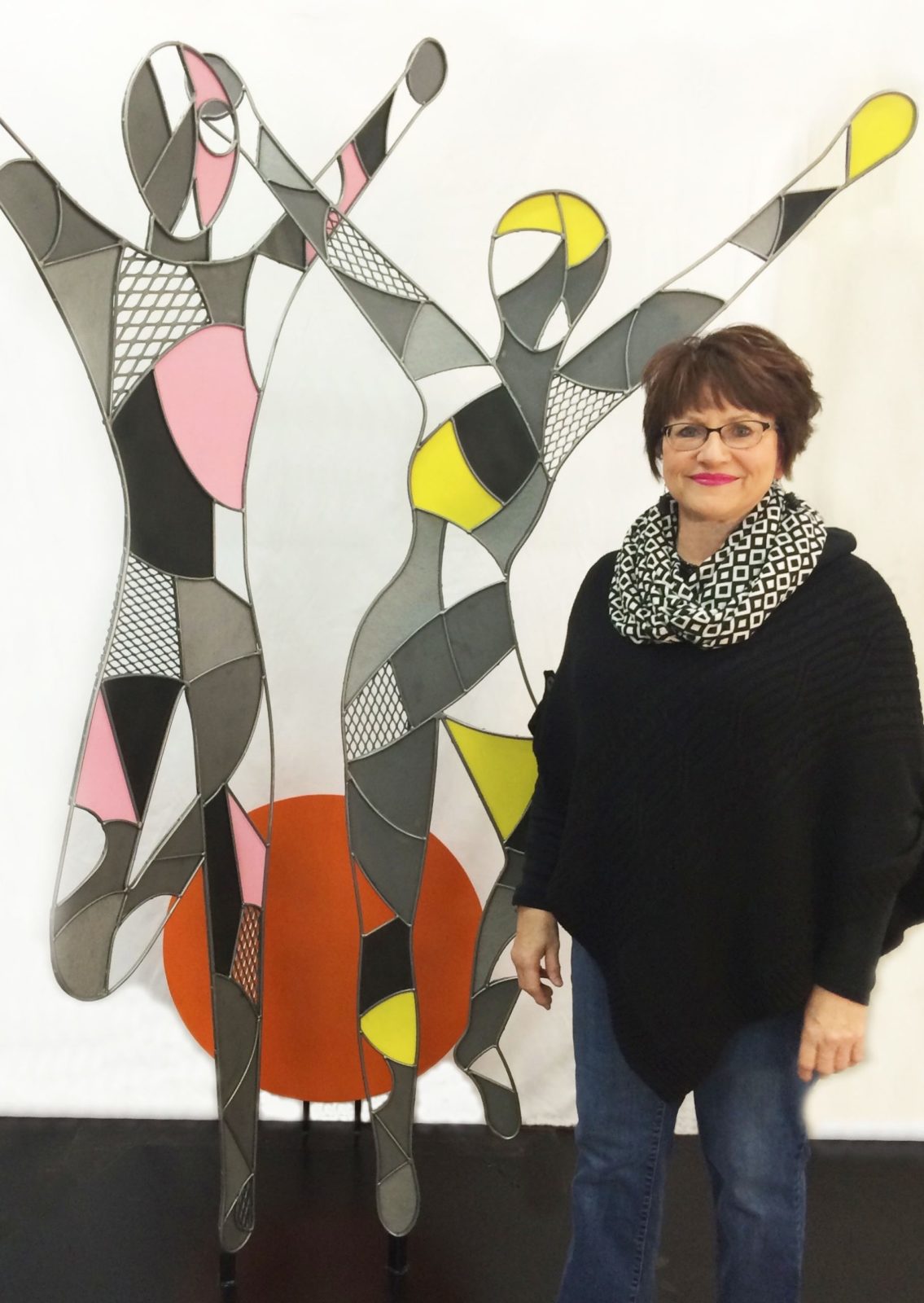 Teri Martens and a commissioned piece, "The Story."
Martens is a Midwesterner gifted with a strong mechanical ability. She was born in the city, but spent lots of time on her grandparents' farm growing up. In her early twenties, Martens was involved in a start up bicycle business, but rather than working in sales or doing the books, she became a mechanic, building racing wheels and repairing bicycles.  Over the years Martens got her bachelor's degree in communication, had a child and worked for a newspaper and for various large corporations in advertising. In 2009 her husband signed her up for a welding class at a local community college.  She excelled in the class and a metal sculptor was born. In 2013 Martens did her first large exhibition, a RAW event which started a series of other shows and exhibits and eventually gallery representation.
Martens works almost exclusively in steel, either new or scrap and many sculptures are a combination of welded and assemblage pieces.  She enjoys animal themes — owls, foxes, birds, fish, horses, and cats but she has also created many outdoor pieces — trellises, birdbaths, arbors and suns. She has refined her methods and processes for the past 10 years moving from two dimensional work into almost exclusively 3D. She describes her work as mostly problem solving.  "I find a piece that I think will work for an owl's wing, for example, but it may need to be heated and bent or drilled and attached with screws."  So there's always a problem she must solve before she can make something work.
Martens' mission in life as well as in her art is simple: Be kind, be useful, be productive.  Every day as she enters her studio she is grateful that she has the opportunity to create art that uplifts, surprises and is loved for the way it makes her collectors feel.
This link is not working right now and I'm not smart enough to figure it out. So please just email me at terijune@yahoo.com or text/call me at 402-881-9714.  Sorry and thanks!